Baca Berita terkini di bawahlaci.com, Kami menyediakan banyak artikel artikel menghibur, serta tips dan trik yang dapat anda coba, menambah pengetahuan anda di berbagai bidang termasuk teknologi.
Kecepatan internet rata-rata di Indonesia mencapai 6,4 Mbps selama kuartal ketiga 2016. Angka itu naik 115 persen dibandingkan kecepatan 3,0 Mbps pada periode yang sama tahun lalu.
Dengan ini, Indonesia menjadi negara dengan pertumbuhan kecepatan internet rata-rata paling tinggi se-Asia Pasifik. Setidaknya begitu menurut laporan terbaru dari penyedia content delivery network Akamai.
Selain itu, Indonesia juga sudah berhasil melampaui kecepatan internet rata-rata global yang dipatok di angka 6,3 Mbps, sebagaimana dihimpun KompasTekno, Jumat (16/12/2016), dari laporan State of the Internet Connectivity yang dipublikasikan Akamai.
Tren pertumbuhan yang pesat sebenarnya sudah terjadi sejak beberapa tahun terakhir. Pada kuartal ketiga 2015, kecepatan internet rata-rata di Tanah Air juga naik 109 persen dibandingkan 2014.
Kala itu Sri Lanka dan China masih mengungguli kecepatan internet di Indonesia. Kini, urutan dua negara tersebut sudah di bawah, bersama dengan Vietnam, Filipina, dan India.
Meski demikian, Indonesia masih harus berlari kencang untuk menyamakan posisi dengan negara-negara lain di Asia Pasifik. Pasalnya, kecepatan internet Indonesia masih berada di peringkat 10 dari 15 negara.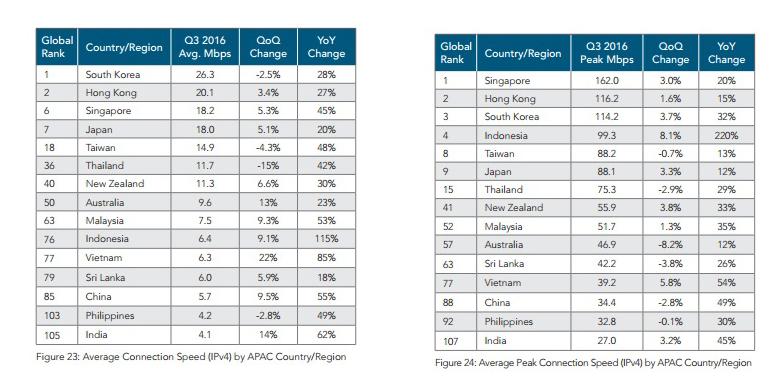 Laporan kuartal III dari Akamai soal kecepatan internet.
Indonesia juga mencatat kenaikan kecepatan internet puncak (peak) sebanyak 220 persen dibandingkan periode yang sama tahun lalu, menjadi 99,3 Mbps. Angka itu menempatkan Indonesia di urutan keempat di Asia Pasifik untuk kecepatan internet puncak tertinggi.
Peningkatan kecepatan internet yang signifikan ini disebabkan beragam faktor. Salah satu yang berperan penting adalah gencarnya penggelaran jaringan internet berkecepatan tinggi 4G LTE di Indonesia yang dimulai pada 2014 lalu.
Selain itu, para operator juga semakin agresif memperkuat jaringannya sekaligus memperluas cakupan ke daerah-daerah di Indonesia. Ini sesuai dengan program broadband nasional oleh Kominfo yang diharapkan bisa memenuhi kebutuhan masyarakat secara merata.